Mappilai Samba Organic Rice – Boiled
Organic Mappilai samba rice is a traditional samba variety of rice. Organic Mapillai samba rice is cultivated without the use of pesticides or harmful fertilizers under hygienic conditions. Mappilai samba rice is harvested and boiled naturally retaining its purity, flavour, aroma, essence and nutritients.
Did you know
Mappilai samba rice has enriching nutrients like zinc, iron and protein. It is an energy booster, helps in reducing cholesterol and hyperglycaemia. It heals stomach and mouth ulcers, increases haemogloblin, improves immunity and stamina. Mappilai samba rice is gluten-free, fat-free.

YOU MAY ALSO LIKE
TO BUY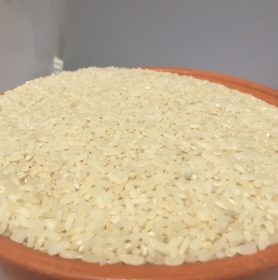 Traditional Samba Rice with lot of flavor. Good for those who prefer Raw Rice.