Pearl Millet Roti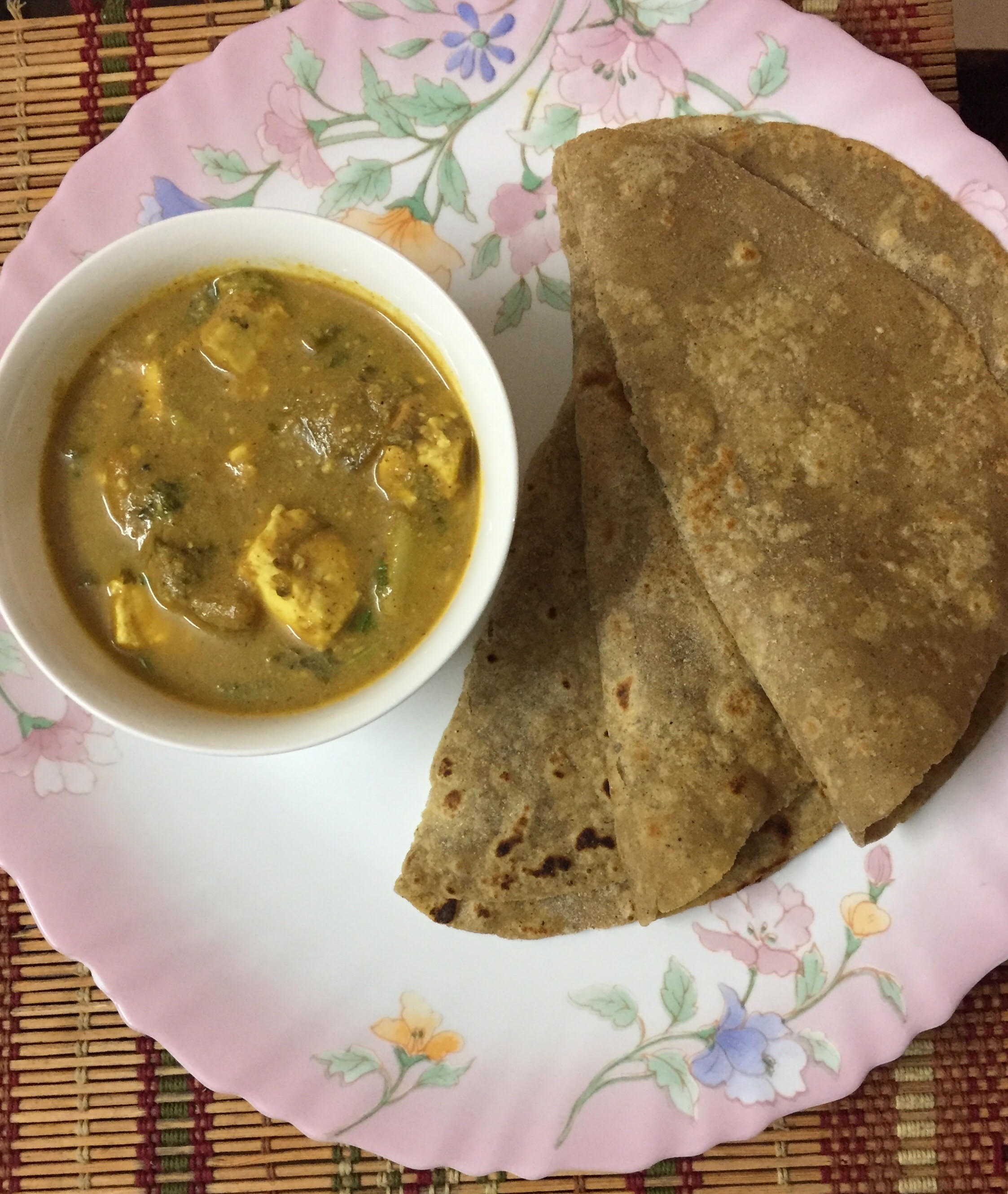 By Ms. Manasa Venkataraman, R.A. Puram, Chennai
Ingredients
Onions - 1 big
Tomatoes - 2 small
Potatoes - 2 nos
Capsicum - 1 no
Carrot - 1 no
Beans - A handful
Coconut - half shell
Paneer from The Organic Shandy (the softest paneer I've had) - 300 gms
Ginger - a small piece
Garlic pod- 4 nos
Green chillies - 2 nos
Coriander leaves - a generous bunch
Curry leaves - a few
Cinnamon - small stick
Clove - 2 or 3
Elaichi -1
Saunf (optional) - 1table spoon
Red Chilli (only if you like it spicy) - 2
Turmeric powder - tsp
Salt - to taste
Pearl Millets
Whole Wheat Atta
Method
Millet Roti: Dry roast pearl  millet in a pan and allow it cool.. Put it in a blender and make a fine powder Add a few table spoons of this mixture to atta and knead into a dough and cook like a regular roti.
Boil water with salt and turmeric powder and add all the cut vegetables except onions
Heat oil in a pan and add cinnamon, cloves, Elaichi wait till the aroma spreads - add the chopped onions(half quantity), red Chilli, green Chilli, Ginger, Garlic (I don't use ginger garlic paste, so I've added whole) and Saunf. Saute all of them till the aroma fills the air.. Do not cook too much
Now put this in a blender along with the coconut pieces and grind into a fine paste
heat oil in a pan add curry leaves and other half onions and add this paste. Saute just a little bit.. Add the boiled vegetables along with the water and stir it all well. Add salt if needed
In a small pan - boil water till luke warm and add the diced paneer for just 2 mins
Now add the paneer and the water to the boiling kurma in the end and stir well.. add a generous bunch of Coriander leaves to enhance the flavor of your kurma and get you very hungry.. :)
Enjoy with your millet Roti!