Char Grilled Dry Fruit Paneer Tikka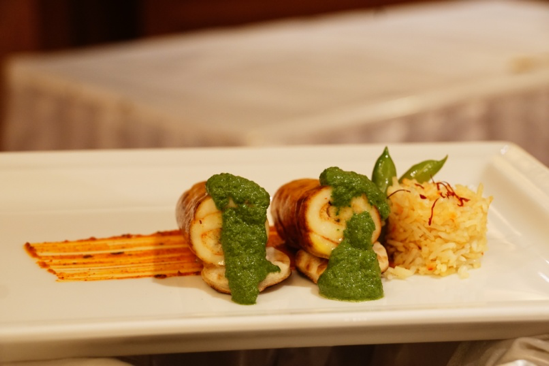 By Mrs. Vijayakumar
Ingredients
Paneer 450gms
Green chutney 15gms
Khoya / Mawa grated 20gms
Saffron (Kesar) 5-6 threads
Raisins 10gms
Cashewnuts 10gms
Almond 10gms
Fresh Pomegranate seeds 20gms
Salt to taste
Red chilli powder 05gms
Hung curd 200gms
Gram flour (besan) 50gms
Ginger-garlic paste 25gms
Chopped coriander 15gms
Chopped Green chilies 10gms
White pepper powder 3gms
Lemon juice 10ml
Melted butter for basting
Method
 Mix khoya, Saffron, Raisins, Cashewnuts, Almond, and fresh pomegranate seeds. Keep aside
 Grate one hundred grams of cottage cheese and cut the remaining into one-and-a-half- inch cubes. Slice each cube into three layers without cutting through. In a bowl, mix together the khoya, saffron and salt.
 In another bowl, mix together the grated cottage cheese, chilli powder and salt. Take a cottage cheese cube; spread the green chutney over the first layer, the khoya mixture on the second layer and the cottage cheese mixture on the third layer.
 Mix together the yogurt, gram flour, ginger-garlic paste, fresh coriander, green chilies, white pepper powder and lemon juice in a deep bowl.
 Add the stuffed cottage cheese cubes and mix gently so that all the cubes are evenly coated with the marinade. Set aside for about an hour.
 Thread the cottage cheese cubes a little apart onto skewers and roast in a Tandoor or over a charcoal grill over a moderate heat for five to six minutes, basting them with melted butter once in between.
 Serve hot with mint chutney and butter Naan.